Often used daily for various purposes, onion has a lot to offer other than just being your staple vegetable for daily food at home. You must have heard about the benefits onion has for hair. We will be discussing various types of onions and their qualities mind detail here.
An overview:
Onions are from the genus Allium of the flowering plants. This genus also consists of garlic, shallots, chives, and leeks. This genus of plants is known for its vitamins, minerals, and other great elements booster of health.  Ancient times are evident of the fact that onions are terrific at treating several ailments such as heart diseases, headaches, and mouth sores.
Types:
Spanish onions are often called yellow onions. Almost 90% of all the vegetable stores in the US retail these yellow onions. These are great for all-purpose cooking.
Red onions are way sharper and spicier than the yellow ones. They are usually consumed in salads or serial recipes. Red onions might as well discolor in some dishes and turn eggs, beans, or potatoes into a bluish-grey color.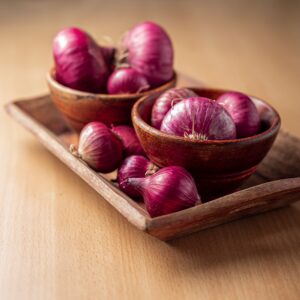 Wild onions are usually eradicated from our gardens. Little do we know about the goodwill they can bring us. Wild onions are great ingredients for good heart health. So the next time you notice wild onion growing in your kitchen garden, do not pluck it off. Use it instead.
Benefits of Onion:
Onions can have lasting benefits for a large populace. Here are some impressive benefits that have long been overlooked.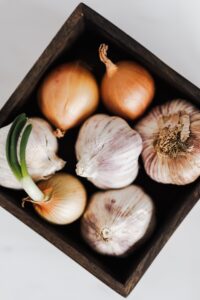 Calories in onions are fewer as they are very rich in nutrients. They are densely packed with a huge number of nutrients, vitamins, and minerals. Calories in an onion of a medium-size would account for only 44 calories. But it will Sure shot give you a packed dose of vitamins and minerals.
Specially enriched with Vitamin C, onions also have nutrients that regulate the immune system of your body such as collagen production, tissue repair, and iron absorption. Onions also encompass B vitamins. They are enriched with Vitamin B6(pyridoxine) and Vitamin B9(folate). These are amazing elements for a decent metabolism and RBC production, along with good nerve functioning.
Onion is plump with antioxidants and other elements that combat inflammation, reduce cholesterol, and lessen triglycerides. All these effects are important for good heart health. They also maintain healthy blood pressure and safeguard against blood clots. Onions have Quercetin in abundance. It helps reduce the risk of high blood pressure and thereby heart diseases.
Antioxidants are incredibly beneficial for our bodies. Onions have plentiful antioxidants. This is how onions help protect you against cancer, diabetes, and other heart diseases. Union's contain more than 25 different varieties of flavonoid antioxidants. Red onions, particularly are a great source of antioxidants.
Onions can be your very own commonly found cancer-fighting vegetables. Garlic and onions have long been linked with the benefits of reducing the risks of cancer. Both coming from the same genus, have sulfur compounds and flavonoid antioxidants which make them best for exhibiting cancer-fighting properties. These are also known to decrease tumor development to some extent. Since it has quercetin and fisetin, both flavonoid antioxidants, it can help inhibit tumors.
Onions have long been associated with the regulation of blood sugar levels. Unions are particularly beneficial for diabetic patients. Quercetin and sulfur compounds are antidiabetic in nature.
Consuming a good amount of onion daily in any form can help you gain some additional bone density, making your bones stronger. A study in 24 women of middle age and postmenopausal women indicated that those who ate up to 3.4 ounces of onion juice daily for about eight weeks showed a better bone density and activity if antioxidants were in their bodies as compared with those who didn't.
Onions curtail oxidative stress, decrease bone loss, and improve antioxidant levels in the body of an individual. They also are great elements to fight osteoporosis and enhance bone density.
Antibacterial properties:
Complimentary antibacterial properties are another additional boost to the health of an individual provided by onions. Onion powder or onion leaves can help you combat the bacteria in everyday life. Onions can inhibit the growth of Vibrio Cholera which is the deadliest bacteria causing cholera. Another bacteria called H. Pylori known to cause stomach ulcers is also fought against onions.
Since onions are enriched with a lot of fiber and prebiotics, they are great for your stomach and digestive health. Prebiotics, being indigestible, is broken down by the good bacteria in the gut. These gut bacteria are fed on the prebiotics which thereby gives birth to fatty acids along with acetate, butyrate, and propionate.
Being rich in prebiotics, onions are the perfect choice for poor digestive health. The friendly bacteria in your gut are increased by onions.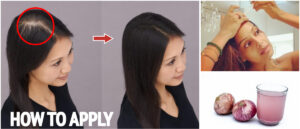 Onion juice for hair or onions for grey hair or even onions for hair fall is not a myth that you have often heard. Onions, when applied to the scalp improve the growth of hair. It enriches the scalp with sulfur, which supports strong and thick hair growth. This also aids in preventing hair fall. The promotion of hair growth is a side blessing just like that. Collagen-rich onions are great for your hair growth and skin cells.
See More:
Various Nutrition and other Important benefits of Vinegar