Extracted from the foliage of the curry tree, scientifically called Murraya koenigii, curry leaves have a lot of benefits apart from their rich aroma and taste. If you're an Indian, you must have come across this plant at least once in your life. Indians are crazy about putting these leaves in a wide variety of recipes.
North Indians put it in pulses, chutneys, etc. While South Indians are a fan of the sambar made with curry leaves in it. The rich aroma that it gives to the good isn't ignorable. Being a kid, a lot of us might have hated it in our food, but as the rich taste develops, we know how curry leaves can transform a plain recipe into delicious lip-smacking food. It has a vibrant flavor and also contains a few notes of citrus.
Curry leaves are way different than the curry leaves powder. A point to note here is that apart from being a useful culinary herb, curry leaves serve to be beneficial in an abundance of ways. 5-6 leaves of the curry plant can transform your recipe into a more delicious one.
Here are some benefits and facts about the curry leaves that you must know:
Abundant in powerful plant compounds:
Not just a vibrant taste and aroma, curry leaves are also rich in vital plant components such glycosides, alkaloids, phenolic, etc. These elements are the reasons why we are discussing the health benefits of curry leaves. Curry leaves in Hindi are called 'kadhi patta'. A lot of Indian recipes use curry leaves for a number of reasons.
Many of the elements are found in curry leaves etc. as antioxidants. Antioxidants are vital for healthy growth since they eliminated the free radicals that are harmful to our body in many ways. Also, oxidative stress is suppressed by the antioxidants thereby eliminating the risk of several chronic diseases. Research on rats has shown that extracts of curry leaves prevent stomach damage and reduce the development of oxidative stress.
Other animal studies have proven that curry leaves extract also might protect against the oxidative damage to the nervous system which was induced for the research purpose. Besides the nervous system, it is also known to protect the heart, kidney, and brain.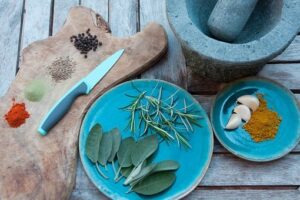 Well, since Indian mothers are very conscious of the health of their children, they would not risk putting in something in their food that doesn't do versatile functions. Here, curry leaves are beneficial for the heart too.
It alleviated the risk of high cholesterol, triglyceride levels, which can potentially be the reason for heart diseases. This is where curry leaves work the best. They lower the bad cholesterol and triglycerides from the body and aid a better as healthy heart health as found out by the most followed websites com.
Research on rats where were indices with a high-fat diet for 2 weeks to induce obesity has demonstrated that oral consumption of 136 my curry leaf extract per pound of body weight per day could potentially reduce the cholesterol and triglyceride levels.
Neuroprotective properties suspected:
Curry leave suspected to have such hidden treasures that we might have not anticipated all our lives. Curry leaves protect against damage to the nervous system along with our brain. One very popular and common disease of mental health, caused as a result of loss of neurons and oxidative stress, Alzheimer's disease can be aided with the help of curry leaves. Country leaves work against neurodegeneration and oxidative stress and help the patient in multiple ways.
Not just this, it has also been proven that curry leaves can improve memory scores and reduce dementia to some extent.
Curry leaves are also believed to contain elements with anti-cancer effects. A study of curry leaves from 3 different locations in Malaysia shows that curry leaves scans significantly reduce the chances of cancer and have inhabited a type of aggressively spreading great cancer. Additionally, curry leave shave has proven to be toxic against cells causing breast cancer and cervical cancer.
An alkaloid element called Girinimbine aids in the death of cells causing colon cancer.
Curry leaves are plant extracts that do not contain a high amount of sugar. Additionally, they help in balancing the blood sugar level of the body. Maintaining this level is highly crucial since it can be the reason for a number of chronic diseases. Curry leaves also fight against one of the common evils of today's time- Diabetes. This further aids in reducing nerve pain and alleviating potential damage to the kidney.
Anti-inflammatory effects:
With so many benefits down the line, this has to be listed here as well. Curry leaves have a wide range of anti-inflammatory elements that cure internal inflammation in the body.
Antibacterial properties:
Apart from all these benefits, curry leaves are known to have antibacterial properties. They can prevent the growth of harmful bacteria, including the one causing tuberculosis.
Takeaway:
Curry leaves are commonly found in parts of India and have myriads of benefits. To know more about how to use curry leaves, you can directly contact your mothers. Indian households potentially use curry leaves in a lot of recipes. Curry leaves for hair, curry leaves chutney are some other uses of the plant.
See More:
Amazing Benefits of Lipton Green Tea