One can find a huge number of diets names in the market. The fitness enthusiasts might as well get confused as to what diet to follow for what purpose. Keto diet is one such name. It is a low-carb, high-fat diet that aids a lot of health benefits. The best thing about the keto diet is that it can be taken with delicious alternatives. Let us first look at what the keto diet is and how it can benefit you.
What is a Keto diet?
The ketogenic diet is essentially a low-carb diet that is high in fat. The principle remains that the dieter replaces carbs with fat and consumes more fat than carbohydrates. In this, the body enters into the phase of a metabolic state called ketosis.
Well, now that you know what a keto diet is and what it does, you must as well assume that all grains and starches should be avoided. But that is not the case. Pure oatmeal is the most nutritious among all grains. Pure and raw oatmeal is apt and fits the principle of the keto diet perfectly. ¼  cup to ½ cup of oatmeal serves about 12 to 24 g of carbohydrates. This is a way lesser amount than a normal person consumes.
Keto oatmeal with large flakes is easier and quicker to digest, so go for a brand that serves large flakes of oatmeal in the purest and raw form. One can select from the keto oatmeal recipe to get started with their diet. Also, these help keep the blood sugar level close to the required level. A Keto diet can sometimes get low in fibers. This lack of fiber is fulfilled with this diet. Grab a bowl of low carbs oatmeal or oatmeal cookies and take our fitness game up a notch. A dedicated bowl of keto oatmeal child contains about 15 and 30 grams of carbohydrates. This serves to be a perfect meal for the keto diet.
Nutritional facts about Oatmeal Diet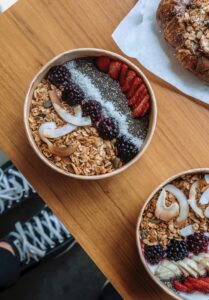 3.5 oz (100 gm's) of oatmeal includes around 389 total calories. These calories can be broken down into 17 gm's of protein, 66 gm's of carbs, 10 gm's of fiber, 56 gm's of net carbs, 66 gm's of carbs, and about 7 gm's of fat.
If the purest form of keto oatmeal is taken, it can cut down the number of carbs going inside your body to just 1/4th of what's stated above. Hence, be very sensible while choosing the right kind of oatmeal.
Over time, there has been a lot of debate around the question if oatmeal is can be included in a ketogenic diet or not. Professionals have been researching if oatmeal is a good candidate for the keto-friendly diet that someone wishes to start. Here we have answered some of these questions.
Should oatmeal be allowed in the ketogenic diet?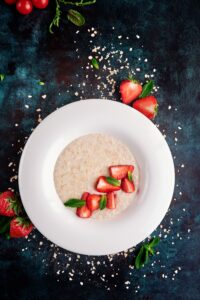 Oatmeal is primarily a breakfast made with crushed or sometimes, rolled oats. To this cereal, water or milk is added accepting to preference. It has been in use for generations. Whole oats are the best kind of oatmeal for anyone who wishes to do a keto diet because they are unprocessed. We have now long been forcing onto the use of pure and raw and whole oatmeal because they are the best and probably the only kind of oatmeal that can be included in a keto diet.
Oatmeal has a lot of vitamin content such as vitamin B, riboflavin, niacin, folate, etc., and much more. These are all necessary while doing a keto diet because it cuts down on carbs. Hence, the dieter needs minerals like iron, zinc, magnesium, sodium, etc. Also, about 100 gm's of oatmeal will serve around 389 calories in all.
However, it is also imperative to note that it also contains 56 gm's of net carbs. But, keeping in consideration the pure form of oatmeal, you can definitely include it in your keto diet. If not able to find the right brand, skip adding it to your diet. Regular oatmeal will potentially take away the goodness of the keto diet.
There are several low-carb oatmeal present in the market. These are keto oatmeal, essentially developed to be added to the keto diet. The role of oatmeal is huge in the keto diet. Hence, a special range of keto oatmeal is now available in the market. Check it out and go for the best one. It only contains some 44gms of carbs. This is suitable for the keto diet.
Keto oatmeal like Hemp Hearts, Chia seeds, Flax meal, Coconut flakes, etc. is available for the fitness freaks out there. Grab them and make your delicious keto oatmeal cookies or any other keto oatmeal recipe and get started with your keto diet today.
Takeaway:
Although, there has been quite a confusion around oatmeal being added to the keto diet, it is evident from the discussion above that keto oatmeal is the right choice if you wish to do the keto diet.
See more: