Over the past few months, I have heard the very famous proverb that's been enchanted, originated from the Prime Minister of our country- "Yoga Se Hoga." which means, 'yoga would make it happen.' There's nothing wrong with it. It very rightly fits the naturally occurring benefits of yoga. All our childhood, we have seen our elders and teachers impose enough on doing yoga and Surya Namaskar every day for a better lifestyle. And what's wrong? Nothing! Yoga makes your lifestyle way better than it might actually be.
If you think you're living on toxic fast food or a toxic fast lifestyle, yoga will help you balance and slow it down to the correct pace. Now, yoga has myriads of poses in its name. One of the most famous poses that we can utter even if we haven't practiced it enough is- the Surya Namaskar. Surya Namaskar or  Sun Salutation, it's just a linguistic alteration, these are one and do exactly similar things to your body. Surya Namaskar is believed to be done first thing while doing Yoga. It is highly lucrative as it positively impacts your body.
Sun salutation is an umbrella term for 12 powerful poses of Yoga. Here we will discuss in detail those poses.
What is Surya Namaskar?
Coming from the Sanskrit language, Surya Namaskar is a sequence of 12 asanas of Yoga. This one practice is the most widely known and practice and it is incorporated into various poses such as Hatha, Ashtanga, and Vinyasa. The word comes from two Sanskrit terms – Surya which means, sun and namaskar, which means greeting.
Looking spiritually, Surya Namaskar was practiced to pay respect and greet the Sun, the source of all lives according to Hindu mythology. According to Hindus, Surya is the ultimate creator of the universe.
Surya namaskar aids in impeding the Prana Shakti (life energy) most abundantly at dawn. Talking of the physical aspects of the sun salutation sequence, It engages the whole body bus stimulating muscles, systems, organs and unlocking the chakras. Mentally, Surya namesake leads to stability of mind thereby increasing concentration.
This, Surya Namaskar is a full-blown package for engaging body, mind, and spirit altogether. Let us now look at how it is done and the sequence of Surya namesake poses.
Surya Namaskar Steps:
The prayer pose or the pranamasana is the foremost pose in the sequence of Surya namaskar. Stand straight on a mat with feet closed and wight balanced equally on both feet. Stand relaxed, then expand your chest, and loosen up your shoulders.
As you do this, inhale and slowly bring your arms up and fold them in front of your chest. Join hands in a namaskar pose. This marks the end of the pranamasana pose.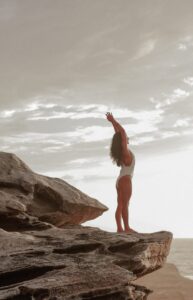 This one is the raised arms pose. Here, the individual lifts both arms over the head straight. Now join hands in the air itself. Now, slowly try to bring your arms back in the same namaskar pose.
As you do this, keep your biceps near your ears and lean backward. Stretch your body backward as you lean back. A pro tip here would be to push the pelvis forward and trying to aim foot the fingers rather than just bending back.
Hastapadasana (Standing forward bend):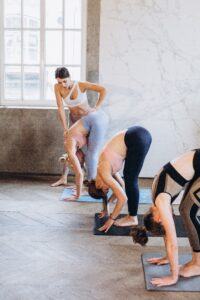 To attain this pose, you straighten up your arms in the air. Bend forward lowering your arms straight in front of you. Bend all the way down until your fingers touch your feet or ground. Remember to intake as you go up and exhale while coming back down.
Ashwa Sanchalanasana (Equestrian pose):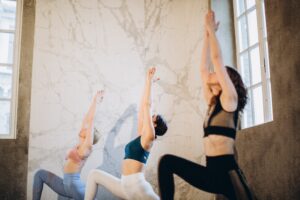 Sit down on both legs bent forward. Now bring one leg backward and stretch it straight with the knee touching the ground. Put your hands on the floor in front of you. Now lookup.
This one is termed the stick pose. To attain this, you bring the other leg also, backward and your hands are still on the ground. This is basically a pushup position. The whole body forms a straight line.
This one is called so because it involves namaskar or salutation with eight parts of your body. Bend your knees and touch the ground, bend your arms by your side and lower yourself down. Two hands, two knees, two feet, and chest and chin, all eight parts should be touching the ground at the same time.
The name suggests the role of arms in this one. Lie down the lower body. Keep the upper body up with straight arms. Look up to complete the pose.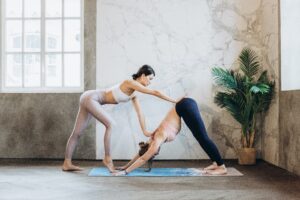 The downward facing dog pose is attained when you lift your hips high with arms straight in front and head down, immersed inwards.
Ashwa Sanchalanasana (Equestrian pose):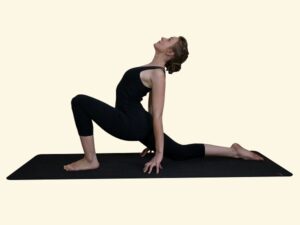 This post is again repeated. You bring one leg forward bent at the knee while the other leg is stretched back, knee touching grounding and face up straight.
You repeat the Hastapadasana and then Hastauttanasan.
The last step is to just stand straight with arms down by your side. This is called Tadasana. Relax in this pose.
All these 12 poses mark the end of your Surya namesake.
Benefits of Surya Namaskar:
Surya namaskar is great for your cardiovascular health.
It improves the cognitive functions of your brain.
It aids in better concentration.
Weight loss is promoted.
Stretching, toning and flexing of muscles is done all at once.
Nervous system is stimulated.
Improves immunity of the body.
See More: