A chemical that's primarily a beta hydroxy acid, the ordinary Salicylic acid is a great drug store cosmetic for healthy and acne-free skin and holds many other benefits. Salicylic acid is known to clear the pores of the skin by exfoliating it well.
Salicylic acid is easily available at over-the-counter products of skincare. You might as well get a prescription of the same from your dermatologist.
The salicylic acid spray is great for reducing acne, blackheads, whiteheads, and a lot of other functions. Say goodbye to future breakouts with salicylic acid.
We've provided the information regarding every possible product of salicylic that you might want to use sometime. Read on to get hands-on first-hand information about the product.
How Salicylic works?
On skin:
A lot of people prefer removing their facial hair. When the hair follicles are removed along with dozens of dead skin cells, the chances of blackheads, Whiteheads, and breakouts or pimples are increased by multiple folds. Your skin becomes sensitive to dust, pollution, dirt, and oil. Thus, providing some extra care to your skin at this point is crucial. This is where salicylic acid's functions come into play.
The acid penetrates into the skin and gradually starts dissolving the dead skin cells, thereby clogging the pores. Though the effect is not immediately seen in just a few uses, salicylic acid does work great if used consistently. It might take from 2 weeks to several weeks, varying for each individual to get some effects showing on the skin.
However, it is recommended that you check why a dermatologist if the results are not visible event after consistent use of salicylic acid face wash for 6 weeks.
Products:
salicylic acid face Wash: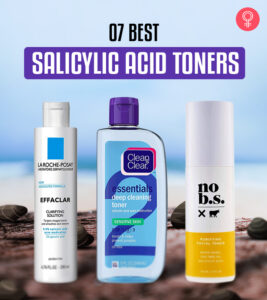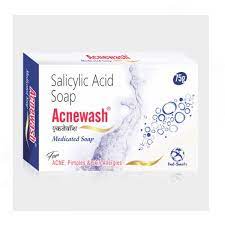 All these products are extensively available at many drug stores, online stores, e-commerce websites for users. You can easily compare the prices, concentration, and quality of different brands and choose the best one for your skin.
Dosage:
Salicylic acid is great for acne-prone skin, but it might as well pose a threat if not used wisely. A particular dosage of salicylic acid is necessary to check before any product is being used. There are two ways, you either visit a dermatologist and get prescribed the best combination for your skin type. Or, if you know your skin type, we have listed a few categories here, take a look:
More we hope on to the dosage of salicylic acid and its frequency of usage, we advise you to test the product well before you start using it religiously. Take a patch test before you begin to cancel out any allergic reactions.
The preferred percentage of salicylic acid in a gel to be applied on the skin ranges from 0.5% to 5%. Above this concentration, a gel might harm your skin. As for the frequency of usage, the gel can be used once every day.
A lotion should have an appropriate consistency of 1-2% of salicylic acid. Lotions can be used 1 to 3 times a day.
An ointment containing salicylic acid should not have the product more than 6%. While on the lower side, it should have at least 3% of salicylic acid. An ointment can be used as need, or as prescribed by the dermatologist.
Salicylic acid pads are also available for use in the market. These should contain 0.5%-5% of salicylic acid, not more. A pad shall be used 1 to 3 times a day.
A soap that has salicylic acid is best at 0.5%-5% of the same and can be used as needed.
A salicylic acid solution usually contains 0.5% -2% of salicylic acid. It is preferably used 1 to 2 times a day.
On hair:
We've talked of acne reducing the quality of salicylic acid quite ample. Now, it is time we tell how salicylic does wonders for your scalp and hair. Salicylic acid shampoos are also retailed and are very popular in the markets. They work by breaking down the dead skin of your scalp.
Conditions like Seborrheic dermatitis are treated very well with the help of salicylic acid shampoo. Psoriasis is another condition of the scalp that is vastly cured by salicylic acid. Salicylic acids have substantial evidence of their working and effect. It world wonders for dry, scaly, and itchy scalp.
Benefits:
Salicylic acid shampoos have a list of benefits and these are discussed below:
An extremely common issue among a huge populace, dandruff is effectively reduced by salicylic acid. Get rid of the itchy and flaky scalp with salicylic acid shampoo. It is the best product as it removes the flakiness efficiently and moisturizes the scale in return.
You can either use a salicylic acid shampoo on a seasonal basis or regularly as it does not make your scalp a delighted region like other dandruff treatment shampoos. It moisturizes the head well.
As mentioned earlier, salicylic acid is another great product to treat the condition called seborrheic dermatitis wherein the scalp becomes dry, flaky, itchy, and has inflammatory symptoms. Being more like dandruff, this condition has the distinction as the flakes here are more oily than being dry as in dandruff.
Not just the scalp, this condition can also be seen in other areas of your skin such as ears, face, etc. If you witness oily flakes on your skin, it is probably seborrheic dermatitis. But won't not! The salicylic acid shampoo has got your back. It can effectively shun away the condition from your scalp. For other regions, contact your dermatologist for better advice.
Marked by reddish silver flakes that are dry and thick, psoriasis is another inflammatory condition of the skin that salicylic acid can treat efficiently.
When the skin starts to formulate new cells quicker than it should, the dead skin cells do not get the time to break down and be removed. This is what results in the building of this dead skin on the skin thereby causing psoriasis.
Another majorly reported hair issue is the falling of hair. At this time, almost all the teens, millennials, and those in their early and middle adulthood are sick of the unprecedented hair loss that they are witnessing.
Though salicylic acid is not the best direct treatment for hair loss, it does help a lot by alleviating the itchy, dry scalp. Thereby reducing the risk of hair fall.
Precautions that you should mind:
Salicylic acid might have all the charm of goodness and benefits. But, it is imperative to look at a slightly darker side of the chemical. It does pose some threats to your skin. Thus, it is highly crucial that you take these precautions before you add up salicylic acid to your beauty regime.
If you anyhow develop any allergies to the product, you just see a doctor immediately before it turns out to be some big trouble. Always do the patch test before starting the use of any such product.
Children are more likely to develop skin irritation with the use of salicylic acid. Use it on children only after you have consulted a dermatologist. Children before the age of 2 years are not advised to use salicylic acid.
If you're on medication, let your doctor know of the same. Certain drugs might react with salicylic acid and cause trouble. To avoid that case, your dermatologist must know the medicines you're regularly taking. Also, if you have a liver infection, blood vessel disease, kidney disease, chickenpox, flu, your doctor must be aware.
Salicylic acid vs benzoyl peroxide:
Benzoyl peroxide is kind of a similar product, but it is more towards the drier side. Benzoyl peroxide is drier than salicylic acid and thus might not be a good choice for treating a lot of problems that salicylic acid can treat.
It is known to treat eczema, psoriasis, seborrheic dermatitis. But, before you start using it, you just consult your doctor.
Also, benzoyl peroxide can stain your hair, clothes, and others. So be careful while using it. Follow proper instructions before using the product.
See More:
Fungal Acne: How to get rid from this