What crosses your mind the moment you read or hear Rice cakes? Probably eastern countries, especially China? Or maybe Korea sometimes. This is primarily because rice cakes are a staple food in these two countries and many more.
Albeit, rice cakes are not limited to a certain number of countries, with globalization at its peak, different cuisines have been swirling all across the world. Rice cakes were a popular snack in the 1980s with low calories and fat.
The delicious snack made from puffed rice pressed together might turn out to be either a delightful pleasure or a guilty one. We are here to discuss the same today. We shall take you on a tour of the varieties of rice cakes and thereafter tell you if these are healthy or a once-a-while snack.
Rice cakes nutrition:
One plain rice cake made from brown rice offers (1):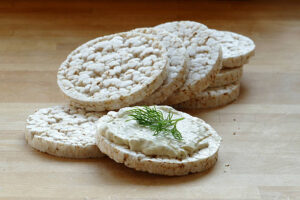 Calories: 35
Carbs: 7.3 grams
Fiber: 0.4 grams
Protein: 0.7 grams
Fat: 0.3 grams
Niacin: 4% of the Reference Daily Intake (RDI)
Magnesium: 3% of the RDI
Phosphorus: 3% of the RDI
Manganese: 17% of the RDI
Some amounts of vitamin E, riboflavin, pantothenic acid, Vitamin B6, iron, copper, zinc, potassium, and selenium are also present in rice cakes.
The amount of sodium present is often dependent on the amount of salt put into the rice cakes.
Are rice cakes healthy?
There are 35 calories in a rice cake of 9 grams which come essentially from carbohydrates. People having rice cakes as a substitute for cereals, bread or crackers need to understand that rice cakes are not as nutritious as any of these.
They are better and healthy when compared to rice cakes. One slice of whole wheat bread, for instance, has 69 calories. So it would save you 68 calories if you were to replace two pieces of bread with two rice cakes.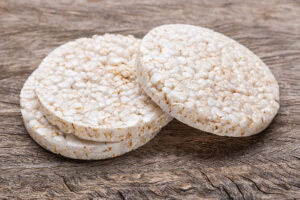 What else is missing? Well, a good 3grams of fiber and several other nutrients are also missing in rice cakes.
In addition, only around 0.6 ounces (18 grams) of nourishment is provided by the two rice cakes compared to 2 ounces of bread (56 grams). Essentially, the difference in calories may be caused by consuming only less food.
Diet with rice cakes:
Rice cakes can make a  good companion if you wish to stay on low calories and fat. Here are some ways for you to adding them to your diet.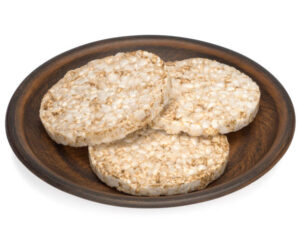 You can try pairing the rice cakes with hummus, tomato, and cucumber slices
Cream cheese, sliced cucumbers and cooked salmon
Bananas and peanut butter
Almond butter and strawberries
Guacamole and cheese slices
Turkey and tomato slices
Celery with tuna salad.
Here are some of the very common products served in the market based on rice cakes:
Quaker rice cakes range:
The brand named Quaker is known for its huge range of rice cakes and other foodstuffs primarily in America. Quaker also sells its products in Asian countries like India. One can find Quaker rice cake in form of regular breakfast packaging, snacks, etc.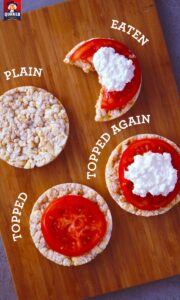 Quaker has a huge range offering the following variation of rice cakes:
Quaker rice cakes- slat free
Quaker rice cakes-apple cinnamon
Quaker rice cakes-butter popcorn
Quaker rice cakes caramel corn
Chocolate rice cakes
Quaker rice cakes- lightly salted
Quaker rice cakes-white cheddar
Rice cakes-tomato and basil
Chocolate rice cakes:
Rice cakes with a chocolate coating might not be comprehended as a combination as smooth as cookie cream, bread, and butter, Romeo and Juliet, etc. But, trust us, this is a very popular combination and works very well for a lot of chocolate lovers out there.
As its name implies, these coated rice cakes are made from chocolate and need only two pure components. However, they are also very rich in nuts, seeds, or sea salt. They are also wonderful.
Here's how you can make them your way:
Put the oven at preheating at 350 degrees F. put the rice cakes on the tray and bake for 5 minutes to crisp them at the right place.
Now, you have two opinions- either melt the choco chips or melt some dark chocolate in the microwave. Make sure you stir the chocolate every 25 seconds so it does not burn.
The next step would be to spread the melted chocolate over the rice cake.
If you like, you can also garnish with some dry fruits, nuts, berries, fruits, or seeds.
Put the finished product into the refrigerator to harden the chocolate and fix it.
Caramel rice cakes:
Another interesting combination is that of caramel and rice cakes. They do not go pretty hand in hand in general. But, to your surprise, we have to introduce the goodness of this absurd yet delicious combination.
Look for a whole grain, brown rice caramel rich cake package you can find in the market shall be the one form Quaker again. Their extensive range of rice cakes is inclusive of this combo too and you should definitely checkout.
Here are the ingredients of your favorite brand of rice cakes:
Whole grain brown rice
Sugar
Milled corn that is purposely degerminated
Fructose
Natural flavor
Caramel color
Maltodextrin
Salt soy lecithin.
Takeaway:
With all these delicious rice cakes flavors and variations, we are sure your tongue and heart have gotten into strong cravings. Well, what is the delay for? Go grab a packet of rice cakes of your favorite brand in any variation that you like and give your mouth much-awaited delight.
See More:
Greek Yogurt with the Goodness of the Greek God