Having excess belly fat is not just a cosmetic concern but also a health risk. Excessive abdominal fat has been linked to an increased risk of cardiovascular diseases, type 2 diabetes, and other chronic conditions. While it's important to embrace body positivity, it's equally vital to maintain a healthy weight and reduce belly fat for overall well-being. In this blog, we will explore effective exercises that can help you shed those stubborn pounds around your midsection and achieve a flatter stomach.
Crunches:
Crunches are a well-known workout that strengthens the core while targeting the abdominal muscles. Knees bent and feet flat on the floor, lie on your back. Cross your hands across your chest or place them behind your head. Lift your upper body, curving it towards your knees as you engage your core. As you rise, exhale, and as you descend back down, inhale. Repeat for a total of 10–15 times in a set.
Plank:
The plank is a great workout that works the abdomen, back, and shoulders among other muscle groups. To begin, assume the push-up posture by placing your toes on the floor and placing your hands just behind your shoulders. Engage your core muscles and keep your body in a straight line from head to toe. Hold this stance for up to a minute, or whatever long it takes you to keep your form intact. Repeat 3–4 times.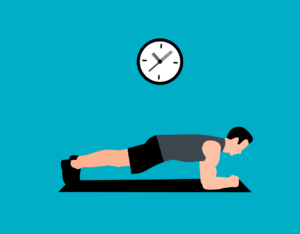 Bicycle Crunches:
Exercises that address the upper and lower abs include bicycle crunches. Bring your legs up to a 90-degree angle while lying on your back with your hands behind your head. Lift your shoulders off the floor and stretch your right leg straight while bringing your right elbow to your left knee. Change sides, extending your left leg and bringing your left elbow to your right knee. 15 to 20 repetitions of each side should be performed in succession.
Russian Twists:
Russian twists are excellent for strengthening the core and training the oblique muscles. Kneel down on the ground with your feet flat on the ground. Lift your feet off the ground and lean back a little bit to balance on your sit bones. To increase the tension, clench your fists in front of you or grasp a weight. Turn your torso to the right while shifting your weight or hands to your right side of the body. Twist to the left and then come back to the center. Repeat 10-15 times for a set on each side.
Cardiovascular Exercises:
Along with specific abdominal workouts, adding cardiovascular activities to your programme will help you lose belly fat as well as general body fat. Exercises that might be helpful include brisk walking, running, cycling, swimming, and high-intensity interval training (HIIT). Aim for 75 minutes of strenuous activity or 150 minutes of moderate aerobic activity each week.
Conclusion:
Remember, there's no magic solution for spot reduction, and losing belly fat requires a combination of a healthy diet, regular exercise, and consistency. The exercises mentioned above can help tone and strengthen your abdominal muscles, but it's essential to pair them with a balanced diet and an overall active lifestyle. Stay motivated, be patient, and celebrate small milestones along the way. With dedication and perseverance, you can achieve a flatter stomach and improve your overall health.