Scrolling down Instagram or Facebook, you might come across a myriad of pictures of your favorite celebrities, or your fitness enthusiastic friends. This might initiate a thought in your head so as to acquire a lean, healthy and muscular body just like them. But, somehow, the right guidance isn't there for you.
If you think hitting the gym 5 days a week or say, 6 days a week while grabbing a pack of burgers at the end of the day would get you in shape, you're most probably wrong. You might have heard of the saying "Abs are made in the kitchen." Pretty crazy right? But it's all the more true in a sense.
Food has a major impact on your body. To get a muscular and lean body, get yourself to eat a healthy diet, including muscle building breakfast. Here, we have mentioned a list of things you can try out for your healthy breakfast routine.
Some of the Most Important Muscle Building Breakfast Meals:
Greek Yoghurt Combination: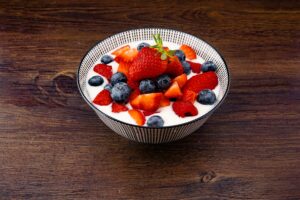 Providing a rich source of 48g of protein, Greek yogurt combined with fruits or oats is the best combination for a healthy breakfast. Carbohydrate content is also high in this combo standing at 40grams. With just 2g of fats and 390 calories, Greek yogurt has the potential to be your ideal meal of breakfast.
The high protein content has a treasure for fitness enthusiasts. The best breakfast for muscle building looks like Greek yogurt and oats. A cup of yogurt with half a cup of oats with a dash of vanilla extract for a little better taste is set to become your favorite breakfast meal. You can add vanilla protein to this meal if you wish.
Cottage Cheese and Fruits:
Again, a meal high in protein content standing at 30g per meal is likely a good breakfast for building muscle. Such dairy products as Greek yogurt and cottage cheese are way in demand these days. It is a high-protein convenience food and thus included in our list of healthy muscle-building breakfasts.
A cup of low-fat cottage cheese integrated with your most preferred food in the morning is good to go breakfast recipe.
The staple, very easy-to-make egg scramble with just a little addition of fealty vegetables can turn the tables for your muscle-building breakfast. The protein content of 26 grams makes it ideal for the morning along with a 12g carbohydrate approximate quantity.
Eggs have a mole of protein and that's something we've heard all our lives. This breakfast wouldn't let you starve midday. The addition of vegetables in the egg scramble with get you a fuller feeling. So, scramble it up with the goodness of vegetables and you're good to go.
Oatmeal dipped in protein: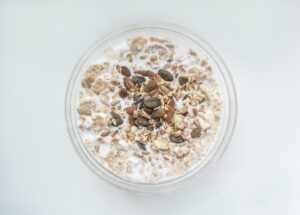 Why take that protein powder secluded when you can add delicious oatmeal to it. Your protein powder will cover up for the lesser quantity of protein in oatmeal giving you 32 g of protein or meal. 35 g carbs will follow up as you take down this meal in the morning as a good breakfast for building muscle. For a little extra, add up a hint of peanut butter keeping it at 1 tablespoon.
Banana pancakes on the go:
Who doesn't like pancakes for breakfast? Pancakes are your savior when you want to eat a delicious yet healthy meal for your breakfast when it's already late. Banana pancakes will make sure you have had enough potassium for those cramps you might get from exercising.
It's a healthy muscle building breakfast for all fitness enthusiasts. Add up a dash of protein in vanilla flavor if you wish to make it over the top.
Smoothie all the way down:
To complete the breakfast with something liquid, you can add up a protein and peanut butter smoothie. What's better than protein and lots of protein for muscle building? It is the key to the best breakfast for building muscle.
Protein alone can be monotonous and flat for a great start to the day. To make it interesting, add up peanut butter and other ingredients if you're not overthinking kinds when it comes to your meals.
Whole wheat bread and peanut butter regular meal: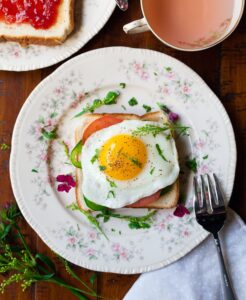 It isn't fancy to eyes and tongue, but it serves as the best breakfast for building muscle. Take up 3 to 4 slices of whole wheat bread along with a fee eggs whites- maybe 2 or 3 and 1 complete egg omelet for a fuller muscle building breakfast.
Indian twist with Paratha:
A paratha is a tortilla made with ghee, preferably for a healthy diet. Dutch refined oil and go for ghee or olive oil for better results. A paneer paratha with paneer scramble along with a cup of green yogurt is potentially a good breakfast for building muscle the Indian way.
You can add up sprouts as a salad in the morning routine to make sure protein demand is taken care of.
Oatmeal with a dash of pumpkin pie:
Serving you a great amount of 42 grams of protein per meal, this recipe is deliciously healthy for your breakfast. Boil milk, add up oats, cinnamon, and stir. Once liquid gets absorbed, put in some pumpkin, almonds, and keep aside. Now, you can also add a mixture of whey protein and water to this recipe for better results.
Eggs and bacon with banana:
When baked up with sunny side eggs and a few slices of bacon, bananas are a delight to mouth. Cook up your eggs and bacon the way you like and add up bananas for a better texture and healthier and fuller meal.
Tuna steaks and Guacamole: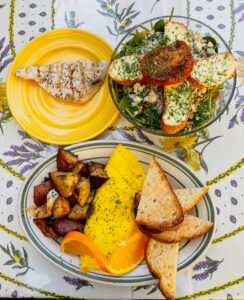 Tuna is known for its enriched protein, iron, and selenium. We say steaks because they are way delicious than canned tuna. You can grill them, season them with the right sources, and serve them alongside guacamole. This can be a great start to the day for a fitness enthusiast.
Takeaway:
With that being said, we conclude the major healthy muscle building breakfast. We have tried to cover all sources of nutritious food and delicious meals. A balanced diet is as important as doing the exercise properly in the gym. To make sure you're getting the right nutrition, you must start with a muscle building breakfast so that the day goes off well.
See More:
Amazing Health Benefits of Vajrasana